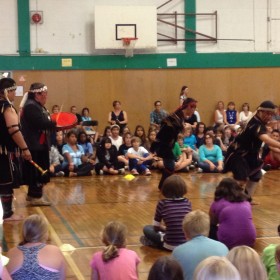 The Greater Victoria School District, and in particular, we at Shoreline wish to recognize and acknowledge the Esquimalt and Songhees nations on whose traditional territory we live, we learn, and we do our work.
Shoreline's community includes young people of aboriginal ancestry.  In particular, we enroll many of the children of the Songhees and Esquimalt nations. This is a valued and longstanding relationship that for some families is about to enter its third generation. We work in partnership with the nations to ensure success and growth for all aboriginal students.
At Shoreline, we acknowledge the gifts we have received from our First Nations partners.  We believe that it is crucial that all of our students, not just those of First Nations ancestry, develop an understanding of the significant role our Nations play, not just in the form of the land we share, but also culturally, spiritually, academically and environmentally.
Aboriginal Education Projects
ANED speakers and workshops

Big Canoe Paddling Program
Support of the Kwum Kwum Lelum homework club
Drumming circles