Exploratory Programs
Here at Shoreline we have a Home Ec room with many kitchens for students to cook in and tables to sew at, we have a Wood Shop with power tools and hands tools and piles of wood, we have an Art Room full of paper, paints, clay, and many other materials to make art with, and a Sustainability Lab where students learn how to survive and thrive through games and hands on learning.
Every student has the opportunity to explore each of these hands-on, project based, practical learning areas. Students go to each exploratory for 9-10 weeks rotating through them all by the end of the year. 
The Shoreline Music and Exploratory Programs now has a website at shorelineconnections.weebly.com. You will find weekly activities under Physical Education, Home Economics, Sustainability, Visual Art and Music. Every Friday a new activities will be posted that students and families can do to stay connected to our Shoreline Community.
Shoreline ART!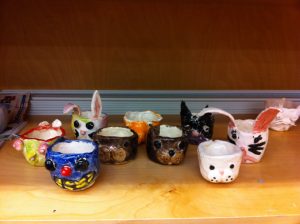 In Art we focus on creativity and confidence playing purposefully with many different materials and ideas. We draw from our imagination, from the world around us, from printed images and collectively. We paint with acrylics and watercolors to tell stories, to experiment, to learn some of the skills of the masters and to have fun. We create many different things with clay to experience a process that requires patience and brings joy. Each year we build on the skills the students have learnt the previous years.
During our suspension of in-class school Ms. McRae has created a Google Classroom for interested students to join and do art together.  Please email Ms. McRae at smcrae@sd61.bc.ca to access. 
Physical Literacy
Physical literacy incorporates both Physical Education and Outdoor Ed, and is run by Mr. Gwilliam.
During our suspension of in-class school Mr. Gwilliam has created a Youtube account for interested students to join and do Physical Literacy activities together.  Please click here to access Mr Gwilliam's Youtube site.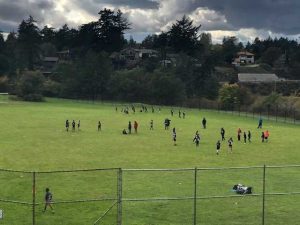 Home Economics
In this course, students focus on food preparation and sewing. These hands-on learning experiences help students identify and explore their interests while building practical skills that are lifelong and have meaning for everyday use.  Students practice creative and critical thinking while learning safe and sanitary food handling procedures, equipment care, comprehension of recipes, textile design, and the importance of efficient work habits. We also explore nutritional needs and the environmental factors that locally and globally influence food choices. As students progress through the middle years,  they will be challenged by increased independence and responsibility.
During our suspension of in-class school Ms. Kreitz has created a Google Classroom for interested students to join and do Home Economics together.  Please email Ms. Kreitz at skreitz@sd61.bc.ca to access. 
Sustainability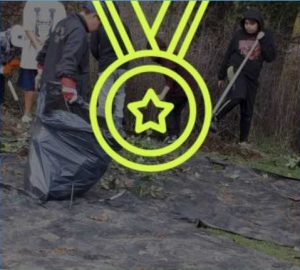 In this interdisciplinary class, students learn how to "survive and thrive, over time." We connect the dots between science and social studies, math and language arts, physical and digital literacy, the arts and the outdoors through hands-on learning activities that help students better care for themselves, their communities and the future of their world.
The Sustainability Exploratory course embodies 
some of the most important changes in the B.C. curriculum, such as the new focus on "Personalized Learning, Aboriginal Perspectives and Knowledge, Ecology and Environment, Historical Wrongs, and Flexible Learning Environments" (
BC Ministry of Education's Curriculum Orientation Guide).
Ms. Menzies created this course and the classroom it is held in to be inclusive and engaging for students of all abilities and cultural backgrounds. It features place-based, Indigenous ways of knowing and being.
Awards
In the News
Field Trips
In 2019, 50 Sustainability students from throughout the school went to Science World. For many, it was their first time on the ferry, let alone to this world class hub of hands-on learning!
Sustainability Learning@home
For Shoreline students or parent guardians who want to join a Sustainability google classroom (or get mentorship in creating their own passion project!), please email: 
emenzies@sd61learn.ca
During our suspension of in-class school Ms. Menzies has created a Google Classroom for interested students to join and do Sustainability together.  Please email Ms. Menzies at emenzies@sd61.bc.ca to access.