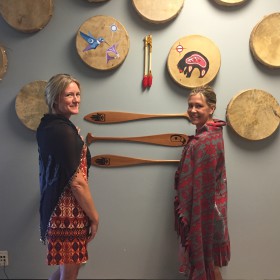 I warmly welcome you to Ecole Shoreline Community Middle School; it is a special place to be.  As I enter my third year as the principal of Shoreline, I am proud of the collaborative work we are doing as educators to incorporate innovative teaching and learning practices into our school.  From our Activity Before Learning (ABL) routine to promote daily exercise as a critical part of healthy living, to our Big Canoe Program with a focus on outdoor education and hands-on, experiential learning, Shoreline staff and students stay actively engaged and connected to the land and our community.
Ecole Shoreline is a small school (265 students) serving a diverse and vibrant community that includes French Immersion learners, students from both the Esquimalt and Songhees First Nations and frequent international student visitors from locations such as Brazil and Mexico.
Please check out my active Twitter feed (NNaughton61) on our home page for daily updates on what's going on around the school as well as current educational trends and resources.
As a staff, we look forward to the 2016-2017 school year with a sense of commitment to our continuing core values: Safety, Respect and Kindness.
Welcome to Shoreline; we look forward to working in partnership with you to support your child's learning throughout the middle school years.
Warm Regards,
Nadine Naughton
Principal/Directrice